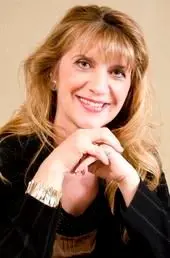 Dr. Andrews
is a Life Success Coach, and Board-certified Hypnotherapist. She helps her clients manage life transitions, gain clarity, increase their self-awareness, develop insight and reach the success, joy, and happiness they want. She specializes in weight loss, smoking cessation, eating disorders, stress management, individual and family counseling, Life/Business Coaching and Clinical hypnosis.
I am a clinical hypnotherapist, Life/Business Coach and Communication Expert.

I have 35 years of professional experience in the fields of Clinical Hypnosis, Life Coaching and Psychotherapy.

I am Greek and fluent in both English and Greek.

I have a Bachelor's Degree in Sociology and Psychology, a Master's Degree in Clinical Social Work with emphasis in family therapy and a Ph.D. in Psychology. For the last 23 years I have been working exclusively as a clinical Hypnotherapist and Life Success Coach.
I have received a diploma from the School for The Work by Byron Katie .
I trained with Deepak Chopra at Chopra University, on sychronicity The laws of Attraction, meditation and deep relaxation.
In 2003 I trained with Dr. Bryan Weiss, M.D., the renowned psychiatrist in Past Life Regression therapy.
I specialize in Weight loss , Stop smoking, Anxiety , Insomnia and phobias. I also work with Self- Confidence, Prosperity, Motivation, Success and utilize Medical Hypnosis in working with chronic pain, diabetes, IBS and other issues.

College Teaching

College Professor Southwestern Adventist University. 1981
TCU C0llege lecturer 1982
Indianapolis University, Athens branch. School of Social Work in Athens Greece.2001-2003.
OKANA 1995-2003. Athens Greece.Developed programs on Communication and Motivation for Change for patients and their families and trained staff at the Okana National Substitution Program Athens, Greece, 1995-2003.

Author / Columnist
Author for the Greek training manuals in Relapse Prevention and Motivational Interviewing.
Published in professional journals and newspapers, International Conference presenter. Syndicated Advice Columnist. Working on a book to include my advice columns.

Seminars / Workshops
I do training and seminars, in US, Greece and Europe in Communication, Stress Management Prosperity, Motivation, and Personal/Professional Success. Coach for various companies, including Johnson and Johnson, Greece. Public Speaker and Trainer.

Media Work
Producer and Hostess of Television Show at Sammons Cable television Channel, in Texas 1984-1985. Guest on Texas Radio station at KJCR,1981-1984. Guest and Consultant on various television programs at ANTENNA and ERT Channels in Athens Greece,1994-2003. .

Specialties:
Medical Hypnosis: weight loss, stop smoking, fears and phobias, anxiety, chronic pain, fibromyalgia, diabetes, cancer.
Eating disorders, Addictions, Sports Peak Performance, Self-Confidence, Motivation, Success in Sales.
Mastermind Coaching for Prosperity,
Coaching for Effective Communication in the Workplace, Corporate Wellness Programs.

Education:
Board Certified Hypnotherapist
Certified Life Coach
Doctorate degree Psychology Columbia Pacific University, USA.
Master's Degree Clinical Social Work, Marriage , emphasis in Family Therapy, University of Wisconsin, Milwaukee, USA.
Bachelor's Degree Sociology and Psychology , University of Wisconsin, Milwaukee, USA.

Professional Affiliations:
National Guild of Hypnotists
International family therapy Association
Associate member of the Tarrant County Law Bar
American Association of University Women
Rotary International
Zonta International
American Business Women Association
NADA, National Acupuncture Detoxification Association
North Texas Association for Counseling and Development
eWomenNetwork member

Licenses / Certifications:
Board Certified Hypnotherapist
Certified in Weight Loss techniques by Tom Nicoli, BCH Internationally known Weight Loss expert
Advanced Clinical Practitioner, 1985.
Stop Smoking specialist certification since 1986.
Licensed Chemical Dependency Counselor, 1994.
Certification in Gestalt Psychotherapy.

Honors:
Outstanding Young Woman of America, 1985
Woman of the year, 1989
Who is Who, American Business Women, 1992
Counselor of the year, 1998

Professional Training:
She has trained with Deepak Chopra, has received her diploma from Byron Katie's School for the Work and is a certified trainer for Past Life Regression Therapy. She has been certified by Dr. Brian Weiss, a psychiatrist and renowned world authority in Past Life Regression Therapy. Certified in Weight Loss techniques by Tom Nicoli, BCH Internationally known Weight Loss expert.

I see clients in my offices in Fort Worth, Southlake and virtually via skype, zoom , facetime or phone. I work globally both in the US, Europe, Canada and Australia.,
Serving Tarrant, Dallas, Johnson, Parker, Denton, and Wise Counties and throughout North Texas.